Each year the conference is planned and organized by the Conference Committee. Conference Committee members serve for five years; three years as Committee members, one year as Committee Chairperson, and one year as Chairperson Emeritus. At the end of each conference, a new member rotates on and the Emeritus member rotates off. The Chairperson is responsible for selecting and executing the theme, including the recruitment of theme speakers. Other Committee members take on various responsibilities, including recruiting the minister of the week, workshop leaders, and volunteers from within the conference; coordinating with Island staff to ensure a smooth week; and generally being available to attend to the needs of the conference.
Lucia Green-Weiskel, Chairperson 2018
Lucia first came to IA with her family when she was 2 years old and has returned almost every year since. She was a Pelican from 1998-2000 and came back to work on the island as an End-of-Season Pel between 2000 and 2007. She also worked on the IA Youth Staff during that time and again in 2012.
Off island, Lucia teaches Political Science at Johnson State College in northern Vermont. She is a PhD candidate in Political Science at the CUNY Graduate Center where she is finishing a dissertation on US-China relations. She also works for the Innovation Center for Energy and Transportation, a policy research center based in Beijing, China.
Lucia writes about China and climate change and is frequently published in The Nation, Huffington Post, and the New York Times. She has been interviewed on several NPR shows and for Democracy Now!
Lucia and her husband, JSC theatre professor, former Blue Man Group performer, and New Yorker cartoonist, Isaac Littlejohn Eddy (Isaac and Lucia met on Star when they were both Pels in 1998), live in Johnson, VT with a dog, seven chickens and their two daughters, Hero and Aria.
Bryan Williams, Chairperson Emeritus
Bryan is a Naval Officer living in Wakefield, RI with his wife Sue and their five children. He first came to Star as a child with his parents and brother and now more regularly with his own family since being stationed in Newport, RI. On Star, he enjoys managing the IA softball team, listening to the theme talks, and playing in the family band.
In the Navy, Bryan has spent most of his career as a Naval Aviator, but now enjoys being a military professor at the Naval War College. Along the way his family has lived in Florida, Virginia, and Japan. Bryan is excited to be part of the IA committee and looks forward to many more summers on Star Island.
Dan Hotchkiss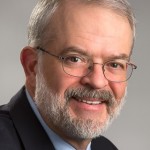 Dan Hotchkiss has been coming to IA since 2005 or so, and can usually be found singing in the choir and reading on the porch. He especially appreciates the excellent speakers that IA has attracted over the years, and the thoughtful conversations throughout every day on the Island.
Dan is a Unitarian Universalist minister who consults with churches and synagogues across the continent, helping them to plan for the future, improve their organizational effectiveness, and engage with their surrounding communities. His book, Governance and Ministry, is read by leaders in a wide variety of congregations and other nonprofit organizations. Dan has been a senior consultant for the Alban Institute, ministerial settlement director for the Unitarian Universalist Association in Boston, and minister of UU congregations in New Haven and Boca Raton.
Dan lives in Middleboro, Massachusetts, where his wife Susan is music director of the UU church and activities director at the council on aging. Between them, they have four children and two grandsons.
Iyabo Obasanjo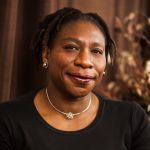 Iyabo started coming to Star Island and IA with her son, Jimi in 2012. She has come every year since then and was introduced to Star and IA by her church, First Church UU in Dedham, MA. She recently moved to Lexington, VA to teach at Virginia Military Institute. Her son enjoys the IA youth program and they are both looking forward to many more years of coming to IA.
Kristin Laverty, Registrar and Treasurer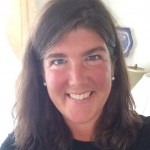 A third-generation Shoaler, Registrar/Treasurer Kristin Laverty began attending the International Affair Conference in the 1970s with her parents and siblings, and has missed only a few years since then.  Kristin has been involved in several aspects of the Conference, including the newsletter, fundraising,  social hour, and a previous stint as Registrar/Treasurer from 2000-2006.
A highlight of her lifelong devotion to Star were the five seasons she lived and worked on the Island as the Island Registrar, from 2006-2010.  The proud Mom of a fourth-generation Shoaler, Kristin lives with her family in Plymouth, MA and is active in various school and youth sports organizations.
For questions regarding registration, Kristin may be reached at kristin@internationalaffairsconference.org.
Katie Bender, Youth Program Coordinator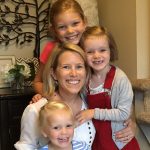 Our Youth Program in 2018 is directed by Katie Bender, who has been an early childhood educator for 14 years, the last 9 teaching kindergarten in Wellesley, MA. She is a life-long IA conferee and former Pel. Katie lives in Medfield, MA, with her husband Marc, their three children (Abby, Brooke, and Lilla), and their cats, Skippy and BooBoo. In her spare time she enjoys getting together with friends and family, and relishes the rare opportunity to curl up with a cup of tea and a new book or carve out a free moment to exercise.