Music at IA takes many forms. We have always welcomed a surprising number of talented instrumentalists to the conference and their talents are happily exploited in all sorts of times and places. The workshop, held every day from 3:30-5:00, is a choir, made up of anyone in the conference who likes to sing. Experience is not required, nor is the ability to read music, although experienced music readers are enthusiastically welcomed. Traditionally, we sing in chapel every morning, and often appear in the IA Follies, which is an all-conference talent show.
The music we sing varies from simple hymns to folk music to classical rounds to short anthems to African freedom songs to Broadway songs to original tunes written about Star to just about anything else you can think of. I deeply believe in the ability of virtually anyone to sing; to lend their voice to that of others in holding up everything that is good about life, and sharing it in song with everybody else. IA choir is a great place to try that out, whether it's for the first time in your life, or whether it's what you do all year long. Come and join your voice with ours and find out how much fun singing in a safe, non-judgmental, friendly atmosphere can be!
Beth Armstrong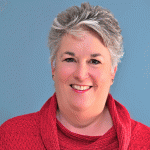 Beth Armstrong has been a choral director and UU church music director for over thirty years. She currently conducts three community choruses in Rhode Island. She is a member and frequent substitute director of the First Unitarian Church choir in Providence, Rhode Island. She started her Star Island connection as the island Music Director in 1997 and 1998, and has been coming to IA as the conference music workshop leader pretty much ever since. Her husband, Stewart, sings in the IA Choir and accompanies them on the piano. She couldn't do her job very well without him.